Lisa Brice
Smoke and Mirrors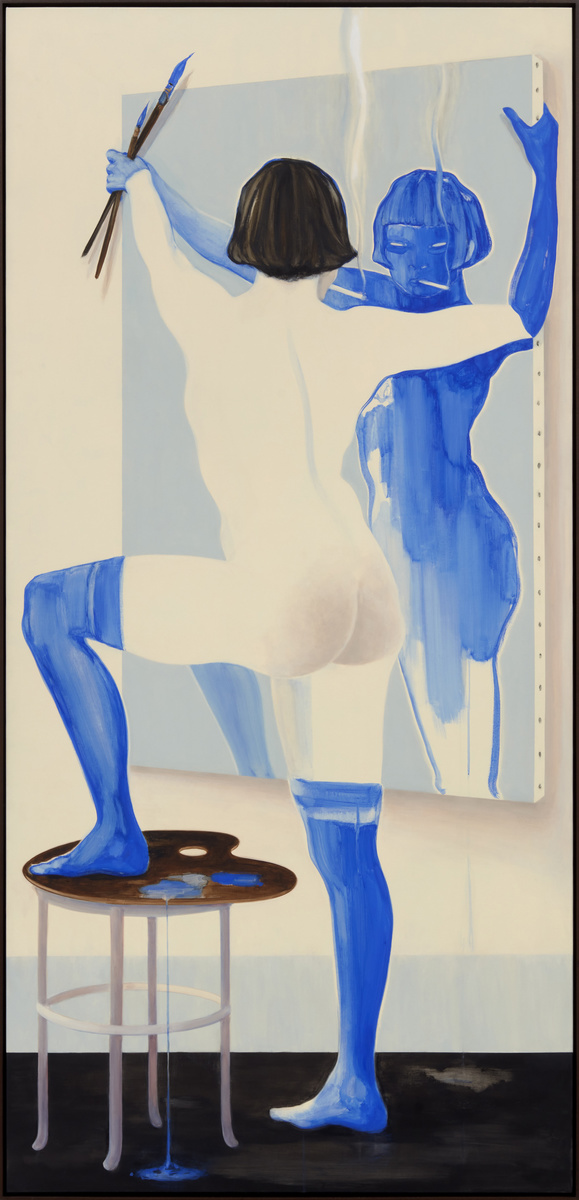 Lisa Brice, Untitled, 2020, synthetische tempera en gouache op doek, 202 x 97 cm, Green Family Art Foundation. Beeld Courtesy Adam Green Art Advisory. Foto: Robert Glowacki
"As a figurative painter it is significant that historical figuration seems invariably created by white men for an audience of predominantly white men." - Lisa Brice
Two years ago Lisa Brice had a major show at Tate Britain. This autumn KM21 proudly presents her first museum exhibition in the Netherlands. Lisa Brice (b. 1968, Cape Town), who divides her time between London and Trinidad, paints and draws women, often naked and absorbed in everyday activities – lingering in front of the mirror, perhaps, or casually smoking a cigarette. Depicting them with sketchy faces and sometimes striking blue skin, Brice deliberately obfuscates their identity.
The tension between revealing and concealing is a common thread running through the show in The Hague. The women's poses in the paintings often refer to compositions by famous artists like Manet, Vallotton and Picasso, though Brice is rarely explicit in this. She lifts figures from their original context, offering new perspectives on the art historical tradition of the female nude. No longer submitting to the male gaze, these women self possesed. As Brice herself says, "This transposition rescues previously isolated figures of women from the lonely confines of a renowned art historical painting and gives them a new existence".
Disguise as liberation
Brice also uses painterly techniques to achieve this. Her paintings and drawings are vivid and powerful thanks to the combination of loose brushwork and an almost analytical detachment. Specific shades of blue regularly recur. Brice's fascination with cobolt blue in particular began with an attempt to capture the blue light of neon advertising, which led to experiments in which she sought to render the transition from day to night (the 'blue hour') in paint. The colour has now assumed many more meanings for Brice, including an association with the Trinidadian 'Blue Devil'. The disguise of this traditional carnival character, originally consisted of a layer of blue laundry powder that was used to make whites whiter. Introduced in the days when Trinidad and Tobago was part of the British Empire, it is still widely available and has been associated with skin bleaching. In a broader sense, the colour symbolises for Brice the liberating effect of wearing a mask or disguise. When you are covered by another 'skin', prejudices based on appearance become redundant.
Female pioneers
Given Brice's interest in the way female artists represent themselves, the self-portrait became an important theme in the exhibition. A new painting is devoted to Dutch artist Charley Toorop (1891-1955). Brice became intrigued by Toorop's Self-portrait with Palette (1932-1933), in Kunstmuseum Den Haag's collection, and she set about researching her life and work. She based her likeness of Toorop on a well-known photograph of Yayoi Kusama (b. 1929) at work. She too, in her own unique way, managed to consolidate her position in an art world dominated by men. Other female artists also inspire Brice's paintings. Photographs of American artists Helen Frankenthaler (1928-2011), Elaine de Kooning (1918-1989), Lee Krasner (1908-1984) and Tamara de Lempicke (1898-1980) formed the basis for a monumental new composition. Brice regards all these artists as great pioneers, opening the way for the women who came after them.
Over the past few years museums have begun to focus increasingly on overlooked aspects of history. Brice's work ties in well with this process, and also with the tradition at Kunstmuseum Den Haag, which includes KM21, of shining a spotlight on artists who have for many years received little attention. In 1935, for example, when the museum first opened, a chronological presentation of works from the collection introduced work from the twentieth century featuring only female artists. Throughout the twentieth century and until very recently, the museum has organised major exhibitions of work by artists like Suze Robertson (1942), Paula Modersohn-Becker (1952), Jacoba van Heemskerck (1982), Helene Schjerfbeck (2007) Louise Bourgeois (2010), Lee Bontecou (2017), Alice Neel (2017) and many others.
International painting
KM21 has a long tradition of showcasing the work of international painters. Examples include its exhibitions of work by Hadassah Emmerich (2005), Daniel Richter (2007), Tjebbe Beekman (2008), Michael Raedecker (2009), Cecily Brown (2010), David Schnell (2010), Robert Zandvliet (2012), Mark Bradford (2015), Maaike Schoorel (2017) and Kati Heck (2020), which have allowed a wide audience in the Netherlands to discover the latest in international painting. Lisa Brice at KM21 continues this tradition.
About Lisa Brice
Lisa Brice studied at the Michaelis School of Fine Art in Cape Town. In 1998, after a residency at Gasworks, she settled in London, where she still lives and works.
Over the past 20 years she has spent extended periods working in Trinidad, following a workshop in Grande Riviere in 1998, and a residency in Port of Spain the following year with artists Peter Doig, Chris Ofili and Andy Miller. During this time, friendships and working relationships were formed with Trinidadian artists such as Adele Todd, Che Lovelace and Emheyo Bahabba aka Embah (1937- 2015), who was particularly influential.
Her work has recently been shown at 'Making and Unmaking' curated by Duro Olowu at Camden Art Centre in London (2016), Salon 94 in New York (2017), Stephen Friedman Gallery in London (2017 and 2019), Tate Britain in London (2018) and Hepworth Wakefield (2020).
Catalogue
Thanks to Stephen Friedman Gallery and Salon 94, a catalogue in English will be published in conjunction with the exhibition. Containing essays by Jennifer Higgie (Editor at Large of Frieze magazine and creator of the podcast Bow Down, Women in Art History), Aïcha Mehrez (Assistant Curator at Tate Britain), Laura Smith (Curator at Whitechapel Gallery, London) and Attillah Springer (Trinidadian author), it is available at Kunstmuseumshop.nl.
Images
Publication