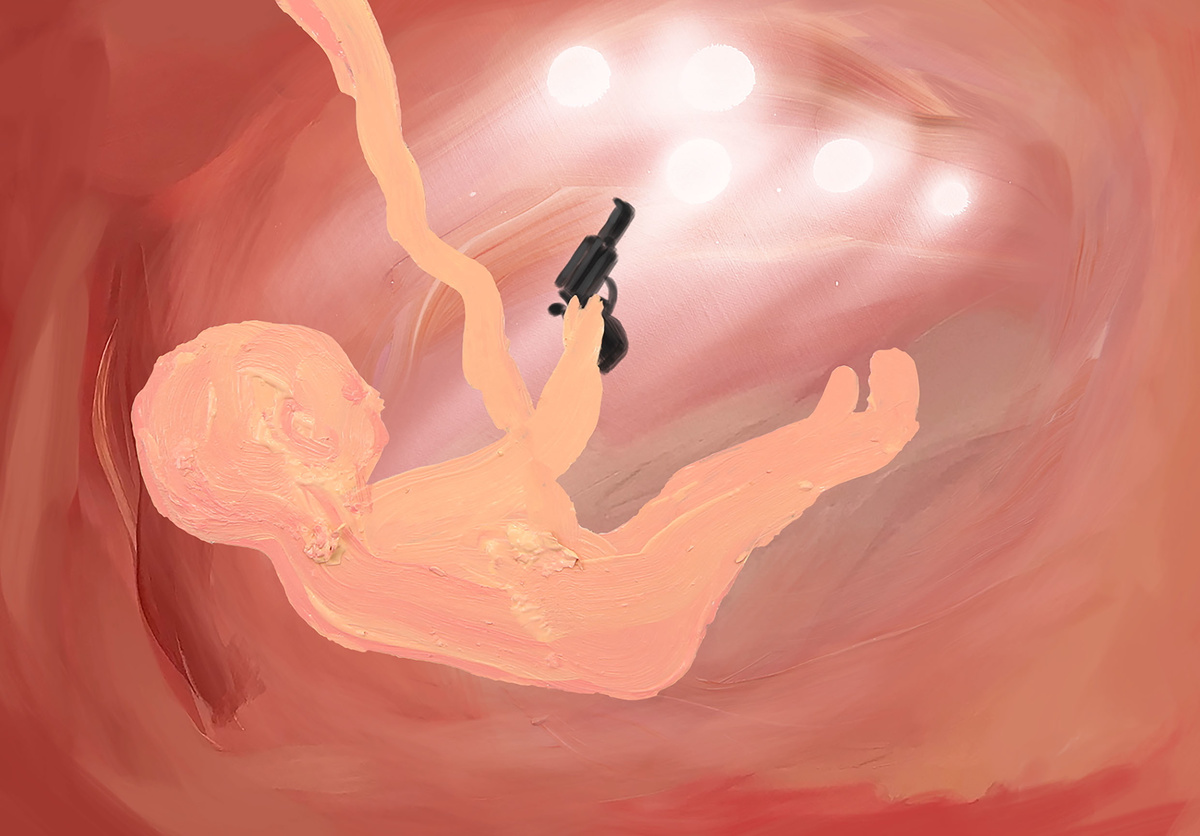 Tala Madani, The Womb (video still), 2019. Courtesy the artist and Pilar Corrias Gallery, London
Tala Madani's darkly humorous works show enigmatic scenes featuring smeared out female figures, ceiling fans and ominous shadows. Death Fan in KM21 marks Tala Madani's first major solo exhibition in the Netherlands, bringing together paintings and video animations.
There is an uncomfortable humour about Tala Madani's work, which aligns repulsion with empathy, and intimacy with the grotesque. Madani depicts primary urges and desires, unhampered by any conventions or social norms. Death Fan presents a selection of paintings and animations that punctuate the tension between comedy and humiliation.
Shit moms
Madani is known for work that deconstructs and satirises preconceived roles and stereotypes surrounding masculinity. Earlier work was largely populated by farcical male figures in all kinds of awkward situations. To Madani, they symbolise the 'everyman'.
In recent years, Madani has introduced female figures (shit moms) in her work, in a contemporary take on the mother-and-child motif common in the history of art. The brown smears that shape the mothers seem to refer to excrement, and reduce them to amorphous apparitions devoid of internal organs, womb or spine. The term 'shit mom' can also be taken to mean 'bad mother', a taboo in our society.
Fans
Recently Madani produced a series of paintings of ceiling fans. Fans have long been a subject of fascination for the artist, as sinister objects that literally hang over us, slicing through the air like knives. Fans also gave Madani the opportunity to re-examine the air as a new site for dread and the unknown. The sense of menace in this series seems to appeal to current world circumstances.
Concrete Suicide
Paintings in the new series Concrete Suicide feature grey asphalt on which we see the shadow of a person jumping from a building. The scene is always the same, but is shown at different times, as suggested by the changing shadow.
Suicide has been a recurrent motif in Madani's work for many years. Death, or 'the end' is never far away. Often, this grave matter is depicted in a comical way, staging impossible deaths like in cartoons. Although the tone of the Concrete Suicide paintings is more chilling, these works also depict death in a detached manner. As viewers we witness it only through shadows.

About the artist
Tala Madani (b. 1981, Iran) lives and works in Los Angeles. After graduating from Yale University School of Art in New York she was a resident at the Rijksakademie in Amsterdam in 2007. She has recently had solo exhibitions at the Start Museum, Shanghai; Mori Art Museum, Tokyo; Secession, Vienna; and Portikus, Frankfurt. Her work features in the collection of Kunstmuseum Den Haag and other leading collections, including the Guggenheim (New York), Museum of Modern Art (New York) and Tate Modern (London).
About KM21
KM21 (launched in 2002 as GEM, museum of contemporary art) is part of Kunstmuseum Den Haag. It showcases current developments in art, presenting Dutch artists to the world and introducing international artists to The Hague and the rest of the Netherlands in its separate premises beside the main Kunstmuseum building. Its layered and visually rich exhibitions prompt visitors to explore contemporary art, discover new things and see more.
Images