'I AM G.S. 3, THE KILLER OF THE HAGUE'
An exhibition by Marcel van Eeden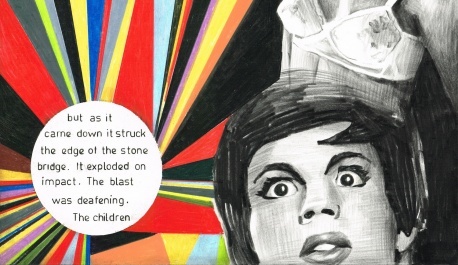 Just over a decade after his first retrospective at the GEM, the museum is now organising another exhibition of work by Marcel van Eeden (b. The Hague, 1965). In recent years, Van Eeden has produced several series of drawings forming complex narratives (often crime stories) in which fact and fiction constantly intertwine. This show at the GEM will offer a representative impression of this part of his oeuvre. Van Eeden has added a new story line especially for the GEM. It is inspired by the real-life unsolved murder of a German called Frits Schallenberg, whose body was found in 1949 close to the museum in the pond on Groot Hertoginnelaan. In this exhibition, this story is not confined to paper, but takes further shape in a fascinating three-dimensional version of the 'crime scene'.
Marcel van Eeden's stories feature three intriguing protagonists: botanist K.M. Wiegand, archaeologist Oswald Sollmann and psychiatrist Matheus Boryna. All are art buffs and practising artists. They experience a series of unpredictable events which eventually prove to be interconnected. One character is a bodyguard who marries Elizabeth Taylor and goes on to become first a reporter and later a celebrated scholar; another experiences a disaster that a third could have prevented. Van Eeden knits together the biographies of his characters to form an ingenious plot, gradually constructing an ever more extensive and complex fictional universe. This exhibition at the GEM will show how Van Eeden finds an inexhaustible fund of possibilities within this concept. By supplementing his drawings with works in other media (such as videos, installations and texts), he lends his highly personal literary genre an incredible sense of momentum and excitement. The works interact to form a labyrinthine maze of stories in which you are constantly on the verge of losing the plot, but somehow always pick up the thread again.
Last year, Marcel van Eeden was awarded the Ouborg Prize. To mark the occasion, the museum exhibited his 'Sammlung Boryna' installation (2009), a work already in its collection. The museum has been following the artist's career for quite some time; its collection even includes a small group of drawings that date from the time of his graduation from The Hague's Royal Academy of Art (KABK) in 1993 and are fundamental to his oeuvre. All the scenes Van Eeden depicts are set in the period prior to his birth in 1965. He bases them on existing visual materials, which he finds in old magazines, books or newspapers. The subjects are wide-ranging and include 1950s interiors, cartoons, news events and even abstract patterns or texts.
Marcel Eeden lives and works in Zurich and The Hague. His work has featured in many international exhibitions, including the Berlin Biennale of 2006. His many awards include the Guerlain Drawing Prize in 2004. In 2011 he appeared as number eight in Elsevier's list of the top 100 most successful Dutch artists.
The exhibition at the GEM is the climax of a series, which began with a small-scale show at Be-Part platform for contemporary art in Warechem (Belgium) and continued with larger shows, first at the Neue Galerie in Gladbeck (Germany) and then at Tel-Aviv Museum of Art (Israel).