Jana Gunstheimer
Mental Duels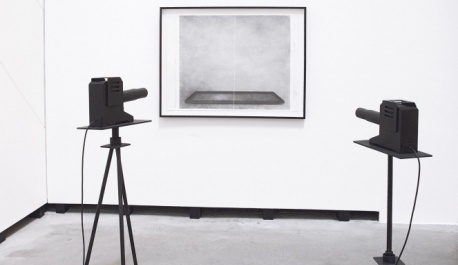 The GEM presents Mental Duels, the first ever Dutch solo show by German artist Jana Gunstheimer (b. Zwickau, 1974). Gunstheimer's multimedia works, composed of pencil drawings and installations, tell stories that appear to be true but are not.
Jana Gunstheimer creates an entirely fictive world with a strong air of authenticity. Her figurative drawings reference the real world, art history and science. But appearances are deceptive: her highly detailed black-and-white drawings may look documentary but closer scrutiny reveals that they are actually based on a shadow world. Gunstheimer combines them with settings and a wide range of objects to stage a destabilizing world in which nothing can be trusted to be what it seems.
Gunstheimer's works are full of contradictions. Her drawings of renowned masterpieces by artists like Picasso and Vermeer are both copies and unique works of art in their own right. But they are covered with scratches, tears, gashes and holes, blank spaces and lacunae. Gunstheimer's purpose is to show how ideology – love of art or hatred of religion – can destroy an image; most of the Vermeer appears to be obscured by dazzle from camera flash. Many of her drawings look like the results of rushed photographic processes or as if they have faded over time. For the show at the GEM, the artist is creating a new installation in which these processes will play a key part.
Gunstheimer has a degree in ethnology – a field in which cultural differences are explained by placing them in a past geographical or social context. In her art, she deliberately creates a context that surrounds lies with the appearance of truth. The style of presentation is scientific. The works are categorised, labelled and archived to enhance the suggestion of authenticity. In this way, Gunstheimer references the development of images, not only in photography, but in general. Her installations also explore image creation and photography. She combines her detailed drawings with stylised objects like cameras, studio lights and printers. 
Jana Gunstheimer's Mental Duels is part of a series of exhibitions at the GEM featuring artists like Marcel Dzama and Marcel van Eeden, all of whom take drawing as the starting point for the creation of entire worlds. Also the concurrent exhibition of work by Charles Avery is part of this series.
The exhibition is sponsored by the Goethe Institute as part of its effort to offer German artists exposure in the Netherlands.