An unusual stroll
Traces of Krijn Giezen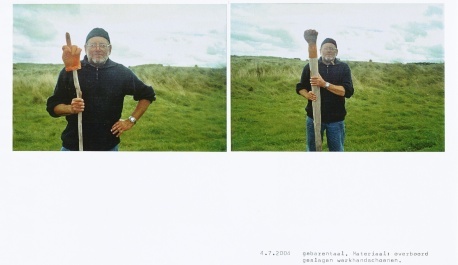 From tapestries, collages and manuals to photographic series, interventions and objects: Dutch artist Krijn Giezen (1939-2011) used a diverse range of media to explore the relationship between humans and nature. For Giezen, art was not an end but a means, and he liked to draw inspiration from the natural creativity of fishermen, butchers and farmers. An Unusual Stroll will combine a selection of Giezen's oeuvre with work by four contemporary artists: Semâ Bekirović, Chaim van Luit, Paul Geelen and Bram De Jonghe.
With his radical ideas on recycling, ecology and craftsmanship, Giezen evolved in the 1960s and 70s into a pioneer of Dutch land art and conceptual art. In 1978 he represented the Netherlands at the Venice Biennale, where he stood in a straw hut handing out herring he had caught and smoked himself. In 2005 he created perhaps his best-known work, Look Out Attention, for the Kröller-Müller Museum's sculpture park. This impressive 300-step staircase ends above the trees of the Veluwe national park. Yet Giezen remains fairly unknown among the general public. Nowadays, however, it is clear that he was well ahead of the field with his unconventional practice and do-it-yourself attitude.
The exhibition will combine a selection from Giezen's versatile oeuvre with work by four contemporary artists: Semâ Bekirović, Chaim van Luit, Paul Geelen and Bram De Jonghe. They share Giezen's engagement with nature and his eye for the absurdity of the everyday. In their artistic practice, too – some of which takes place outside the confines of the studio – everything exists in poetic association, as one thing gives rise to another.
Semâ Bekirović
Semâ Bekirović (b. 1977, Amsterdam) works with nature – animals, plants and elements such as wind, rain and fire – to produce her photographs, videos and objects, lending their interpretation to manmade objects. Coots build an artificial nest using items from her home, for example (Coot, 2006-2007), and mould forms impressive sculptures in a discarded pair of shoes (Shoes, 2015).

Chaim van Luit
Wandering through woods and cities, Chaim van Luit (b. 1985, Heerlen) collects remarkable materials like salt, rocks and fireworks. His finds serve as a basis for his sculptures, photographs and videos. At first sight, one is struck above all by the simple, reduced forms. On closer inspection, however, the images often contain signs of an unusual history, such as the signs written by visitors at limestone caves in Limburg.

Paul Geelen
Paul Geelen (b. 1983, Weert) explores the interface between science, alchemy and nature. His fascination with snails, which started in a vegetable garden in Brabant, has taken him as far as Chile, where he gathered material and investigated the reasons behind the rejuvenating effect of snail slime, a common ingredient in the cosmetics industry. His trip was the start of a long-running speculative study of the potential for making an elixir of life.

Bram De Jonghe
Bram De Jonghe (b. 1985, Ostend) combines monumental spatial interventions with small gestures. Interested in humans as inventors, he takes what he calls a 'McGyveran' approach, in which the relationship between traditional craft and machines often plays a role. Simple elements like a pencil sharpener, a coffee maker or candle wax come together in an associative way to form works that give us a new perspective on our everyday environment.

About Krijn Giezen
Krijn Giezen was born in Noordwijk aan Zee, and he always remained a man of the coast. He was a beachcomber who ventured out in search of material and valued what others had discarded. In the late 1950s, while studying at the Royal Academy in The Hague, he was already producing large tapestries from pieces of fabric he found in the classrooms there. Gemeentemuseum Den Haag's collection includes six works by Giezen that illustrate his wide-ranging oeuvre.

Giezen had special ties with the city of The Hague. After graduation he shared a studio here with Peter Struycken, and art institution Stroom of The Hague invited him to work on a number of projects in public spaces, including the Haagse Beek project, which was completed in 2000. He also taught at the Royal Academy of Art (KABK). In the 1990s Giezen moved to Normandy, where he and his wife went to live in a tumbledown chateau close to the sea and the dunes.
The Hague Contemporary Art Weekend
The exhibition will be opened on Saturday 6 July, during The Hague Contemporary Art Weekend, A varied programme, including music and food, will begin in the lounge at museum restaurant Gember at 19.30.