Maaike Schoorel
Londen | New York | Rome | Amsterdam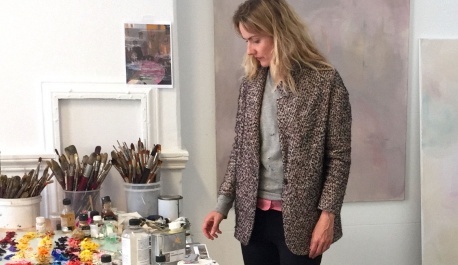 'My work is loud and palpable, just as whispered words can hit home especially hard.'
Maaike Schoorel
The work of Maaike Schoorel (b. 1973) challenges the viewer's ability to interpret what they see. By looking carefully and spending time with her canvas' the apparently monochrome surfaces reveal themselves to be being made up of layers of coloured paint that describes faint landscapes, figures and still lifes. This autumn GEM is showing the key pieces from Schoorel's career, made between 2004 and 2016 in metropolises like London, New York, Rome and Amsterdam. The exhibition will also include some new pieces created specially for the show.
At first glance Maaike Schoorel's paintings appear virtually empty. We see only some subtle brushstrokes, soft colour shading, a slight sparkle here and there. In search of guidance, the eye starts to move across the canvas. Only after a while does an image start to reveal itself: a still-life featuring a bottle of mineral water, a group in leisure wear having a picnic, a beach scene or a landscape.
Schoorel's subjects can often be related to classical genres of painting, though they all have a decidedly contemporary feel. She bases her pictures on snapshots she takes herself, photographs from her family album, or memories and dreams. Painted very sparingly, the images evoke an interval between seeing and understanding, sparking the viewer's imagination.
Conscious observation
In a visual culture dictated by an excess of rapidly changing impulses, Schoorel's paintings are unique. Apparently empty, they force us to slow down, demanding conscious observation on the part of the viewer. Just as silence can be deafening, so Schoorel's work forces the eye to concentrate with the utmost intensity.
With her masterful technique and unique brushwork, Schoorel is one of a series of contemporary artists, like Tjebbe Beekman and Michael Raedecker, whose work refers to traditional painting. GEM/Gemeentemuseum Den Haag regularly focuses on this new, internationally oriented generation who are doing an excellent job of perpetuating the Netherlands' mythical status as a land of painters.
Maaike Schoorel studied at the Gerrit Rietveld Academy in Amsterdam and the Royal College of Art in London. Since her debut at Galerie Stigter Van Doesburg (Amsterdam) in 2002, her work has always attracted a lot of interest. Her paintings have been purchased by museums in the Netherlands and abroad, and shown at the Frans Hals Museum (Haarlem), the Stedelijk Museum (Amsterdam), Museum Kunst Palast (Dusseldorf), the Saatchi Gallery (London) and other venues. She recently returned to the Netherlands, having spent years living in cities like London, New York and Rome. The exhibition at GEM will feature a selection of works from 2004-2016 and new works produced in Amsterdam, where she now lives.
Images