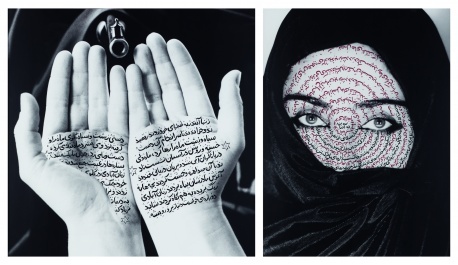 Photographic and film artist Shirin Neshat (b. 1957) grew up in Iran, but left to study art in Los Angeles at the age of 17. Her work focuses on the conflict between her cultural roots and western culture, and the roles of men and women. It can be seen this autumn at GEM, partially coinciding – to Neshat's delight – with Splendour and Bliss. Arts of the Islamic World in the Gemeentemuseum. GEM will be showing both the early Women of Allah series (1993-1997) and no fewer than four of her films. The selected work showcases Neshat's development since the start of her career.
In 1995 Shirin Neshat had her first solo exhibition at the Annina Nosei Gallery in New York, at which she showed the first part of her Women of Allah series. This new, socially charged work proved a great success for Neshat, who had previously been searching for her identity as an artist. The series came about after Neshat returned in the 1990s to Iran for the first time since the revolution of 1979.
The new Iran made a deep impression on Neshat, particularly the change in the position of women in Iranian society. In Women of Allah she explored their role in the revolution and the concept of female martyrs. In her images of women fighting for the cause they sometimes appear challenging, in threatening poses, their weapon trained on the viewer. At other times they are fragile, literally concealed in a chador. Neshat added calligraphy to the images, parts of poems in Farsi, giving the women a voice. At the same time Women of Allah is a comment on the West's clichéd view of Iranian women.
Turbulent (1998) and Rapture (1999)
Along with Fervor (2000), Turbulent and Rapture form a trilogy of video installations. In Turbulent Neshat focuses on the ban on women singing in public. The viewer is literally in the middle of the action, between two screens. On one, a man appears singing a ballad in front of a full audience. After his performance the action shifts to the other screen, where a woman stands before an empty auditorium. Neshat emphasises the dynamics between the genders through their contrasting black and white clothing, a full and an empty space, and static and dynamic camerawork. There is contrast in terms of the films' content too: the man sings a traditional song, but the woman performs her own composition. She breaks the rules and thus finds freedom, despite the restrictions imposed on her.
In Rapture, too, Neshat emphasises the freedom women claim for themselves. While the men on one screen remain behind in a locked fort, women on the other screen climb into a boat on the beach and sail into the unknown.
Zarin (2005) and Munis (2008)
The videos Zarin and Munis are part of a series of video installations entitled Women Without Men made between 2004 and 2008, based on the 1989 novel of the same name by Shahmush Parsipur, whose work is banned in Iran. Parsipur tells the story of five women, each of whom tries to escape a repressive cultural, social or religious background. Neshat translates this to 1950s Iran, when the country's first democratically elected government was overthrown in a military coup. Neshat combines historical fact with mythological and surrealistic details: the activist Munis talks to a dead demonstrator, and the men whom the young prostitute Zarin sees have no faces. Neshat thus creates a magical realist idiom that shifts constantly between reality and fiction.
The role of poetry
Poetry is very important to Shirin Neshat. It also plays a major role in Iranian culture, and the country has a long Persian poetic tradition. Using poetry in her work seems to be Neshat's way of connecting with her culture and her country of birth. She has developed her own visual language that enables her to transform poetry and literature into images in various ways. In her first photographic series, Women of Allah, she literally translated poems into images using calligraphy. In her earlier films, Turbulent and Rapture, she found other ways of transposing poetry into the moving image, with music taking over the role of calligraphy in these installations. In her later videos, the spoken word and narrative are more important. Neshat introduces poetry into the dialogue between the characters, for example. She also branches out beyond poetry, rewriting the entire narrative of a novel for Women Without Men. Neshat has evolved into a visual poet who gives social, political and historical themes a voice and a visual platform.
Success
Shirin Neshat won the Gold Lion at the 1999 Venice Biennale for Turbulent. This signified her international breakthrough. Since then, her work has been shown throughout the West, and is included in the collections of leading international museums like the MoMA in New York. Her films have been shown at major film festivals in Venice, Cannes, San Francisco and elsewhere. Neshat seeks out leading names to collaborate with, including Cate Blanchett and ANOHNI for The Carnival is Over. Annie Leibovitz selected and photographed Neshat as one of the inspiring women in her edition of the Pirelli calendar. Yet despite her politically and socially highly charged work, Neshat does not aspire to be a political artist. She also disputes her image as an ambassador of the Islamic world. Her work is personal, emotional and intuitive, above all, and she hopes to strike a chord with an international audience on this level.
Images