Oscar Murillo
Social Cataracts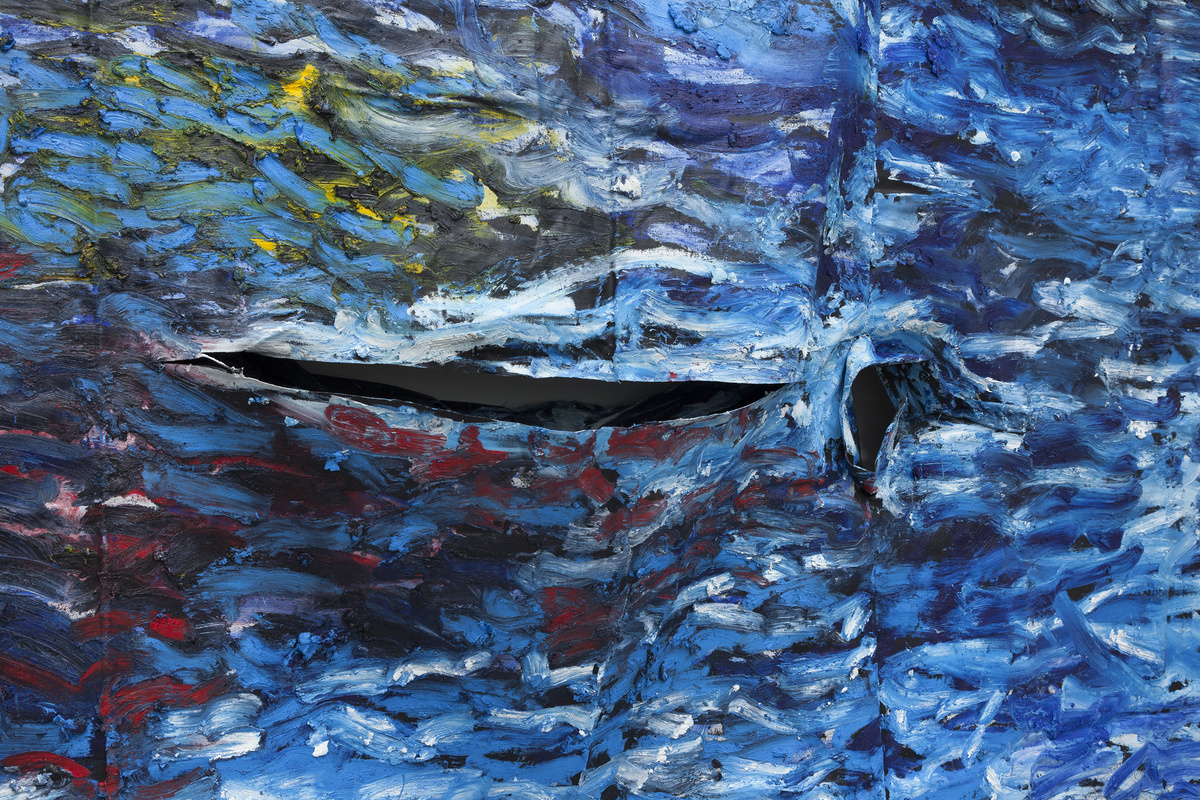 Oscar Murillo, Surge (Social Cataracts), detail, 2019. Courtesy Oscar Murillo.
To artist Oscar Murillo there is no distinction between art and life. His work explores universal themes like migration, displacement and the human impact of globalisation. KM21 presents Murillo's first solo exhibition in the Netherlands, showcasing the work of an artist of international renown. New and recent works draw on sources of inspiration such as the world-famous water lilies painted by French artist Claude Monet; as well as reflecting the turbulent backdrop of social upheaval against which they were made.
Sensory experiences 
Murillo is known for creating arresting, sensory experiences, exploring subjects such as labour, community and cultural exchange in works which push the boundaries of painting as a medium. At KM21 he has sought to creating a powerful physical experience: entering the space the viewer is surrounded by imposing, black-painted, draped swathes of linen. The distinctive smell of the oil paint gives a bodily element to the viewing experience, while the engulfing structure draw visitors to move through the space, creating intimate moments of encounter with floating drawings, paintings and video works. Social Cataracts 
Central to the exhibition is Murillo's (untitled) surge series (2018-present), some painted over the past few years, and some made specially for this show. The paintings, which the artist refers to collectively under the title social cataracts, are dominated by blue and white oils interspersed with other colours, built up layer by layer. Composite grounds are created using stitched together fragments worked upon with different techniques and in different times and places. The final layer of dense oil strokes is then applied in gestures which flow across the paintings' surfaces. Traces are visible of the vigorous and even violent processes the canvases embody, including smears of paint and even rips and seams in their surfaces. The colours and strokes in the paintings are inspired by Monet's venerated water lily paintings.
Murillo was drawn to the work of Monet not simply for their aesthetic qualities, but rather for the story behind them – Monet was suffering from cataracts during his later years, for which he refused to have surgery. His condition had a dramatic impact on his work, because he was no longer able to see colour and texture clearly. The water lilies he painted in this period are now among his best-known work. Murillo was fascinated by this account of a 'biological darkness' at the heart of images so widely known and celebrated for their beauty – for him this served as an example of the propensity in our societies for a 'social blindness' for one another – a willingness to be dazzled by beauty at the expense of thinking critically about the paradoxes beneath. The marks which make up the social cataracts reflect the energy with which they were created, and also recall the movement of water, with its capacity to flow freely, with no regard for arbitrary constructs like maps or borders. As such, the series conjures an ambiguous vision of contemporary geopolitics, one which could be interpreted as utopian, or cautionary. 
Mesmerizing Beauty 
Surrounded by the social cataracts paintings is the new installation Mesmerizing beauty. The work incorporates white plastic garden chairs, which have been used repeatedly by Murillo in various works and performances, recognisable as a vernacular, low-cost furniture item found in many countries. They perhaps suggest community or family gatherings, and for Murillo have strong connotations of something disposable or easily discarded, speaking of a transitory coming-together. The chairs can be seen spread throughout the exhibition, piled with rock-like, corn and clay sculptures which have been used as a component of Murillo's visual language in installation works over a number of years. In Mesmerizing beauty, the chairs are vacant, attached to them are wooden supports resembling placards, symbolising another type of communal gathering –  a political protest. In place of slogans, we see small-scale examples of Murillo's social cataracts works, the chairs oriented so as to face inwards, towards each other, rather than outwards. This figuration refers back to Murillo's allusion to a sense of 'social blindness' towards one another which lurks beneath a seductive surface, perhaps pointing to a sense of disillusion in human relations in the midst of an epoch of social upheaval and destabilisation. 
About the artist
Oscar Murillo (b. 1986, Colombia) lives and works in various locations around the world. After graduating with a Bachelor of Fine Arts from the University of Westminster in London in 2007, he went on to study for his Master of Fine Arts at the Royal College of Art, London, graduating in 2012. He soon began to make a name for himself internationally, and in 2019 he was one of four winners of the Turner Prize. Over the past few years he has shown his work all over the world, and it now features in several leading collections, including that of the Museum of Modern Art (New York), Fondazione Prada (Milano) and Museum Ludwig (Cologne).
This exhibition has been sponsored by the Mondriaan Fund.
Images