Oscar Murillo

Social Cataracts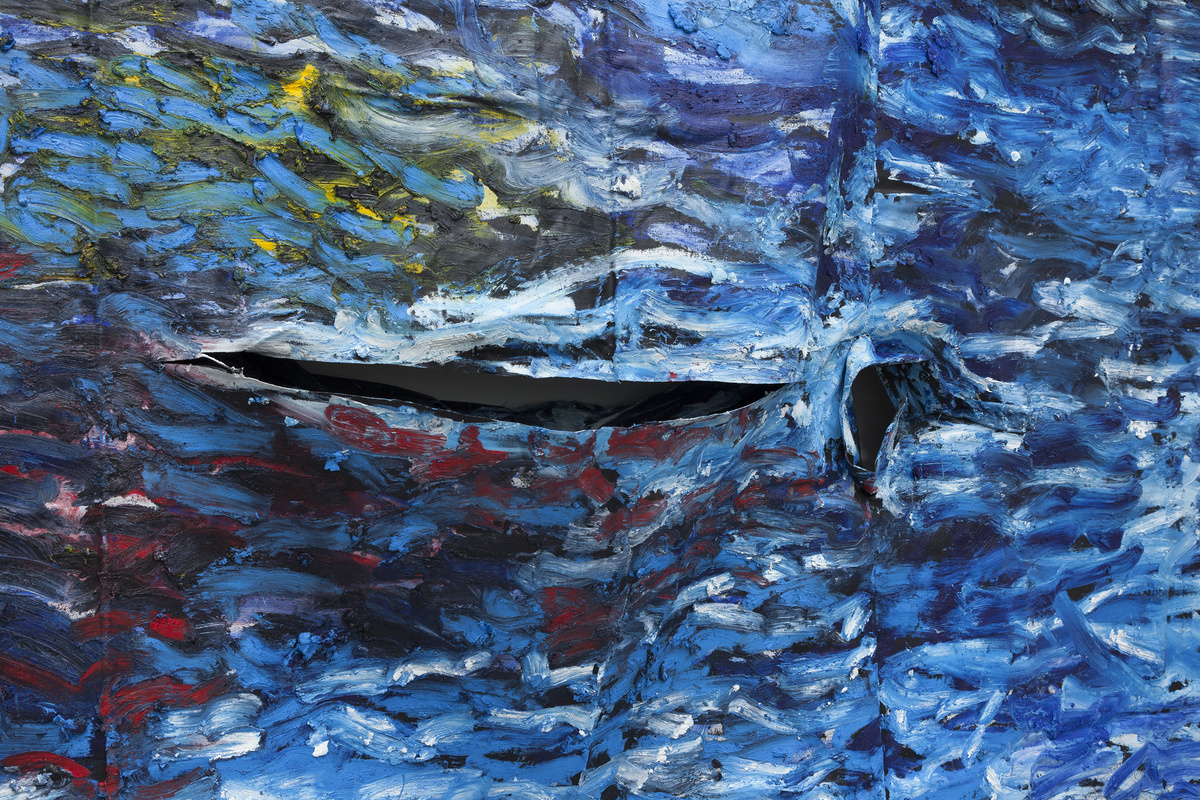 Oscar Murillo, Surge (Social Cataracts), detail, 2019. Courtesy Oscar Murillo.
To artist Oscar Murillo there is no distinction between art and life. His work explores universal themes like migration, displacement and the human impact of globalisation. KM21 is to present Murillo's first solo show in the Netherlands, showcasing the work of an artist of international renown. At the heart of the presentation will be a new series of large-scale paintings, which draw on sources of inspiration such as the world-famous water lilies painted by French artist Claude Monet; as well as reflecting the turbulent backdrop of social upheaval against which they were made.
Sensory experiences
At the age of ten, Oscar Murillo (b. 1986, Colombia) and his family moved from his birthplace La Paila to London. His work, which is closely interwoven with his own personal story, is a visual exploration of subjects like labour, community and cultural exchange. In large paintings, often combined with video, sculpture, drawings and performance, Murillo creates vibrant sensory experiences, constantly pushing the boundaries of painting as a medium, while drawing attention to current political and social issues.
Social Cataracts
Central to the exhibition will be Murillo's social cataracts series (2018-present), some of them painted over the past few years, and some made specially for this show. The paintings, dominated by blue and white oils interspersed with other colours, are built up layer by layer. Composite grounds are created by the artist using stitched together fragments worked upon with different techniques and in different times and places. The final layer of dense oil strokes is then applied in gestures which flow across the paintings' surfaces. Traces are visible of the vigorous and even violent processes the canvases embody, including smears of paint and even rips and seams in their surfaces. The colours and strokes in the paintings are inspired by Monet's venerated water lily paintings.
During his childhood Murillo developed a great affection for painting the landscape of Colombia, which prompted his early fascination with the western canon of impressionism. His attraction to impressionism, and particularly to Monet, re-emerged in 2019 when Murillo found himself painting in poor light at an improvised studio in New York. In the dim light, he found it difficult to retain any sense of depth or space. This alienating experience made Murillo think of Monet, who had severe cataracts in his sixties. His condition had a dramatic impact on Monet's work, because he was no longer able to see colour and texture properly. The water lilies he painted in this period are now among his best-known work. Inspired by the constraints of the human field of vision – literally, but also in a social and political sense – light and dark play a key role in the exhibition, as Murillo explores the idea of social cataracts: of a shared blindness toward one another in our contemporary world. 
The marks which make up the social cataracts reflect the energy with which they were created, and also recall the movement of water, with its capacity to flow freely, with no regard for arbitrary constructs like maps or borders. As such, the series conjures an ambiguous vision of contemporary geopolitics, one which could be interpreted as utopian, or cautionary. The social cataracts paintings will be presented within a new, large-scale installation created by Murillo on site at KM21.
About the artist
Oscar Murillo lives and works in various locations around the world. After graduating with a Bachelor of Fine Arts from the University of Westminster in London in 2007, he went on to study for his Master of Fine Arts at the Royal College of Art, London, graduating in 2012. He soon began to make a name for himself internationally, and in 2019 he was one of four winners of the Turner Prize. Over the past few years he has shown his work all over the world, and it now features in several leading collections, including that of the Museum of Modern Art (New York), Fondazione Prada (Milano) and Museum Ludwig (Cologne).
This exhibition has been sponsored by the Mondriaan Fund.